There are many suggested methods to provide relief to period pain—from heating pads to prescription drugs to specific meals. For those who are interested in using natural ways to relieve their menstrual pain, we have 5 herb recommendations for you that—depending on where you live—can be found at most grocery stores.

Before we begin…
We suggest taking these herbs as teas or additions to meals, but if you are considering using herbal supplements, other forms of alternative medicine, or specific diets or foods for menstrual cramps, it is important to discuss this with a health professional if you are able.
Some herbs may cause unintended side effects, especially when other medications are being taken. A health professional may have more information on specific dosage recommendations for your situation.
This is not intended to be a substitute for professional medical or nutrition advice.
First, a few definitions…
We'll start out by defining a few words for you first:
Prostaglandin: compounds found in almost every tissue in humans and animals that have different hormone-like effects depending on how they react with . Common effects are uterine cramping and increased sensitivity to pain.

During a menstrual cycle, inflammatory prostaglandins are released, constricting blood vessels that result in cramps

Anti-inflammatory: blocks prostaglandins and reduces menstrual pain; ibuprofen is an anti-inflammatory
Antispasmodic: reduces muscle contractions
1. Chamomile (Matriacaria recutita)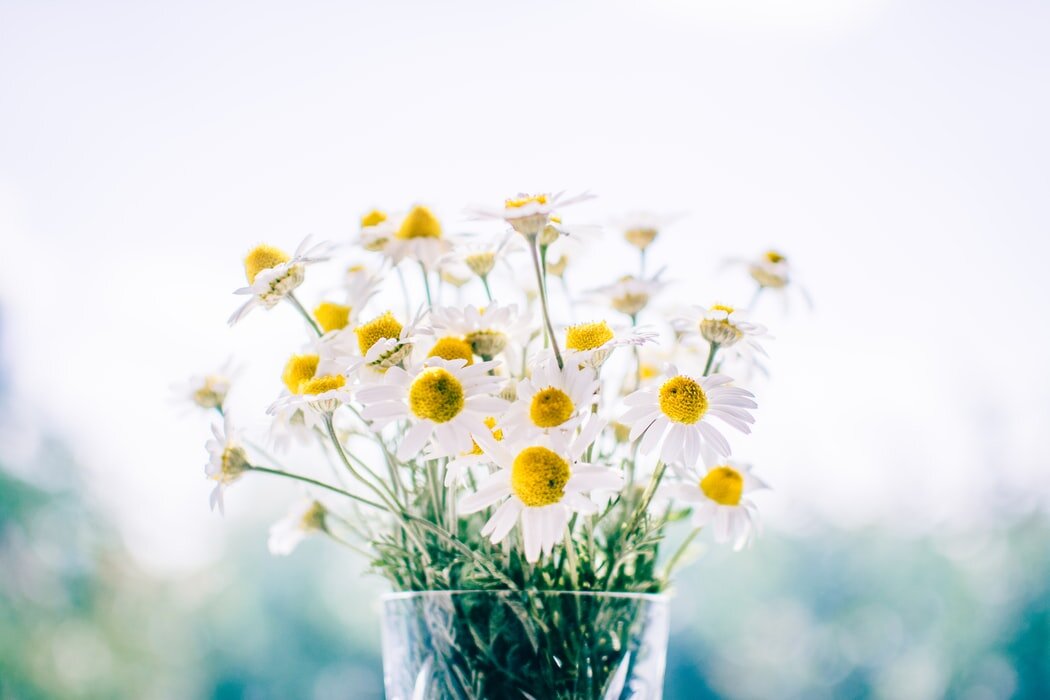 Chamomile tea is known for its calming, relaxing effect—the light, floral flavor of this herbal tea is frequently used to soothe nerves and help prep for a restful night.
For menstrual pain:
In addition to its calming effect, chamomile is an antispasmodic, is an anti-inflammatory, and increases urinary levels of glycine—all of these work together to relieve muscle spasms, act as a nerve relaxant, and relieve menstrual pains.
How to try it yourself:
Brew a cup of chamomile tea (loose-leaf or bagged or bottled, we like them all!), add as much honey as you'd like to sweeten up your day.
2. Fennel (Foeniculum vulgare)
You may have heard of fennel, the feathery leafed plant with a crunchy bulb often used in soups, sauces, and salads. Both the bulb and the seeds have a warm, aromatic flavor that remind many of licorice or anise. The plant has many health benefits, including improving immune responses to infection, increasing iron absorption, and maintaining bone strength.
For menstrual pain:
To help with menstrual pain, fennel seeds contain anethole, a compound with antispasmodic effects. The compound eases menstrual cramps by inhibiting uterine contractions that are stimulated by prostaglandins. Studies have shown that consuming fennel can reduce menstrual pain severity.
How to try it yourself:
Use fennel seeds to flavor any dishes—we recommend grinding them or toasting them to get more flavor out of the seeds before adding them to your favorite protein or bread!
3. Cinnamon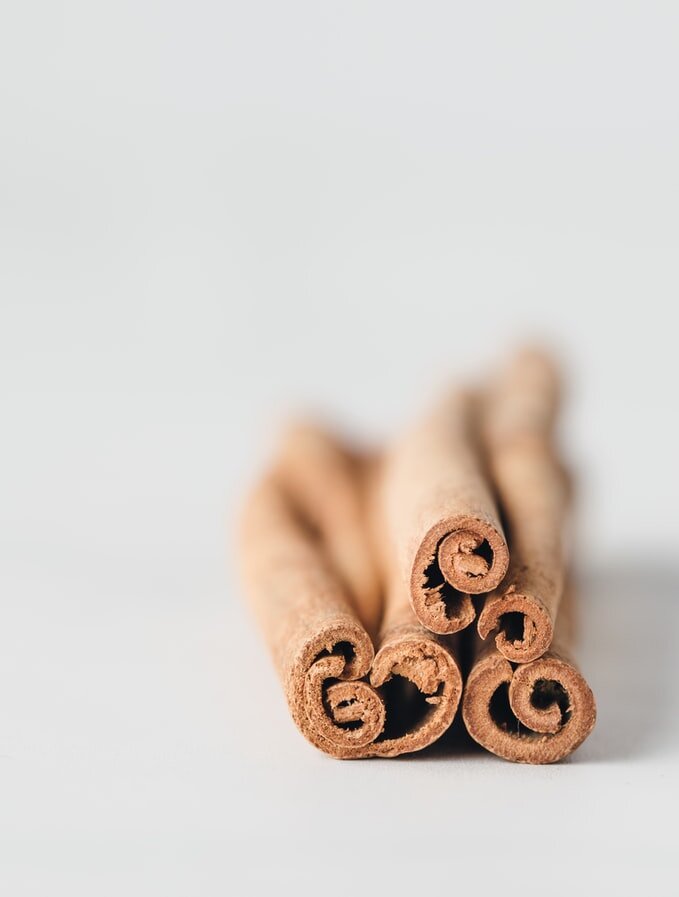 The cinnamon spice that we know today comes from the inner barks of the Cinnamomum tree. Dating as far back as Ancient Egypt, the herb has been used as an ingredient to add a flavorful warmth to dishes and to take advantage of its many health effects—including its high level of antioxidants, ability to lower blood sugar, and reduce the risk of heart disease.
For menstrual pain:
Cinnamon's anti-inflammatory and anti-clotting properties helps reduce menstrual cramps and nausea. Studies have shown that the warm spice's effects are particularly effective when taken during the first few days of a menstrual cycle.
How to try it yourself:
Sprinkle some cinnamon on your cereal or hot cocoa (you deserve it!), or make cinnamon tea by steeping a teaspoon of cinnamon powder in hot water for 2 to 3 minutes. Once again, add as much honey as you'd like to sweeten your day.
4. Ginger (Zingiber officinale)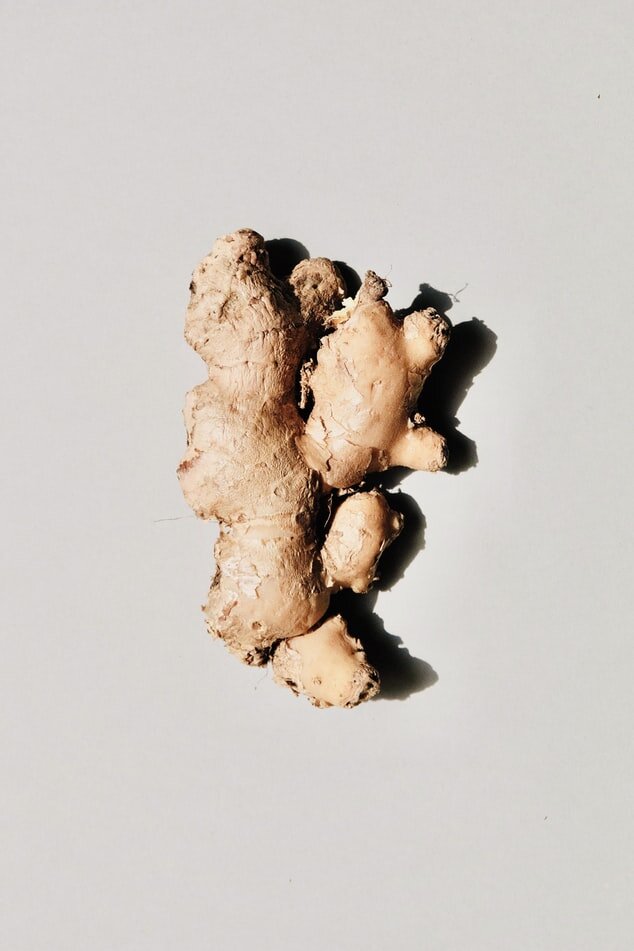 Ginger has been used as a home remedy for a variety of health maladies for centuries—including aiding digestion, reducing nausea, and fighting the common cold—both in its fresh and dried states.
For menstrual pain:
The plant is anti-inflammatory and reduces the production of prostaglandins, and studies have shown that it has been as effective as ibuprofen in reducing menstrual pain. In addition to reducing menstrual cramps, ginger also helps with lower back pain and nausea that's associated with menstruation. We recommend grabbing some ginger a few days before your period begins.
How to try it yourself:
Grab a bag of ginger tea, or make some yourself by adding fresh sliced ginger (no need to peel it—though we do recommend washing it beforehand!) to boiling water for five to ten minutes. Add lemon or honey to even out the sharp, earthy flavor.
5. Dill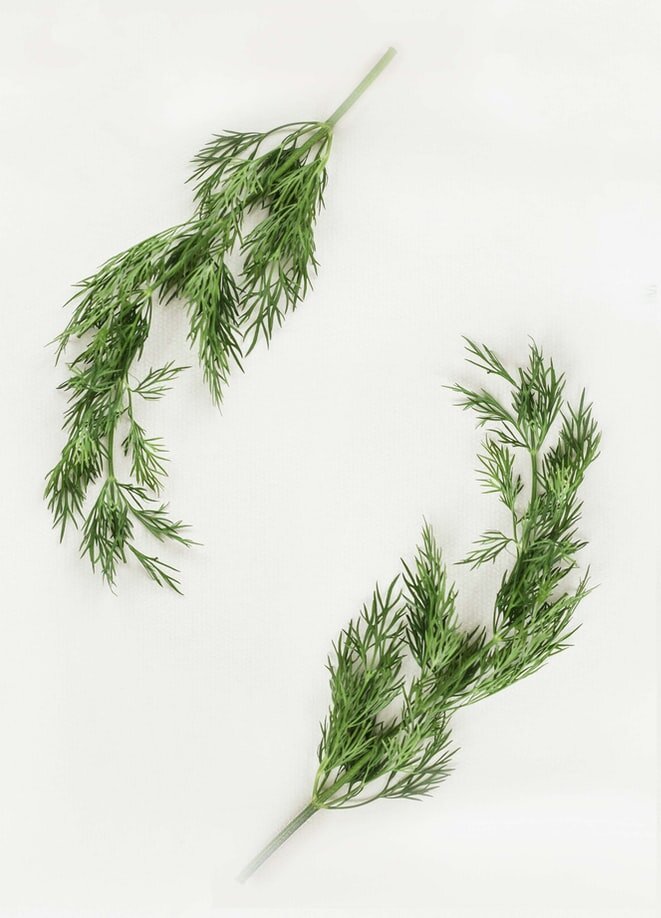 Dill, most known as a pickling spice, adds a distinct fresh and herbal flavor to the dishes they are added to. In addition to being a boost of flavor, the herb is also rich in antioxidants, has antibacterial properties, and contributes to strengthening bone health.
For menstrual pain:
This herb contains compounds that act as both anti-inflammatories and antispasmodics, reducing swelling and cramping. Studies have shown that dill is as effective as mefenamic acid (a drug prescribed for menstrual pain) in reducing menstrual pain severity.
How to try it yourself:
Add dill salads, soups, breads—the herb adds a fresh flavor both when used as a garnish and when mixed into your dish.